MITK ReleaseNotes 2018.04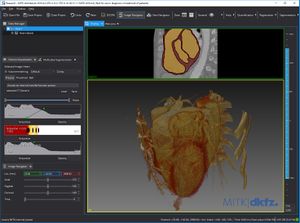 UPDATE March 2019: new bugfix release, please also look at MITK 2018.04.2
This is the 2018.04 release of the MITK release cycle. You find a list of new features, bug fixes and known issues below:
What is included?
Binary installers for Windows, Ubuntu 16.04 (and later), as well as macOS High Sierra (and later) are provided, which contain the MITK Workbench application. In addition to image loading/saving and level windowing, the following plugins are included:
Interactive Segmentation
Registration (MatchPoint)
Statistics
Measurement
Volume Visualization
Image Cropper
Remeshing
Pointset Interaction
Movie Maker
Screenshot Maker
View Navigator
Logging
experimental Multi-label segmentation
experimental DICOM Query/Retrieve (based on components from the Common Toolkit CTK)
Please note that the installers neither contain the source code nor header files of the precompiled libraries. To develop applications or plug-ins with MITK please get the source code.
How to get it?
See our download page.
Highlights
Application
Dark theme
Improved macOS support
Modern graphics backend based on VTK 8.1 and modern OpenGL
Simplified Remeshing plugin
Extended DICOM support (RTSTRUCT, RTDOSE, RTPLAN, SEG)
Development
Development requirements
CMake 3.10 or later
Qt 5.11.1 or later
Minimum required compiler versions

Latest version of Visual Studio 2017
GNU 5.4 or later recommended
Apple LLVM 10.0 or later recommended
Third-party toolkit updates
Boost 1.68
CTK fc06bedc
DCMTK 29f9de10
DCMQI d067f81c (new)
MatchPoint 24ef6072
OpenCV 3.4.1
ITK 4.13.1
VTK 8.1
Experimental integration of SOFA and hence MITK Simulation was removed because of essential incompatibility with VTK 8.1.
Numbers
In the 23 months since the last release, around 700 tasks in our bug tracker were resolved with approximately 3900 commits.
List of recent contributors
Special thanks to all of our recent contributors since the last release:
Alexander Kuznetsov
Alexander Seitel
Alfred Franz
Amir Kalali
Andre Klein
Angelika Laha
Annika Reinke
Benjamin Mittmann
Bertram Sabrowsky-Hirsch
Caspar Goch
Christoph Kolb
Clemens Hentschke
Daniel Maleike
Dimitar Tsvetkov
Dominik Waibel
Dominique Cheray
Eric Heim
Esther Stenau
Fabian Isensee
Federico Milano
Franz Sattler
Hellena Hempe
Jakob Wasserthal
Janek Gröhl
Jasmin Metzger
Jens Petersen
Jenshika Yoganathan
Joseph Goerres
Kim-Celine Kahl
Laura Aguilera
Lisa Kausch
Marco Nolden
Martin Hettich
Martin Klemm
Matt Clarkson
Matthias Eisenmann
Michael Goetz
Mikhail Pukhlikov
Miklos Espak
Niklas Holzwarth
Nil Goyette
Nils Gaehlert
Patmaa Sridharan
Paul Jaeger
Peter Neher
Philipp Strubel
Rachael House
Ralf Floca
Sarina Thomas
Simon Kohl
Stefan Dinkelacker
Taylor Braun-Jones
Thomas Kirchner
Timo Wiese
Tobias Norajitra
Tobias Stein
Yann Zimmermann
This page was last modified on 13 March 2019, at 16:07.
This page has been accessed 991 times.