MITK ReleaseNotes 2013.09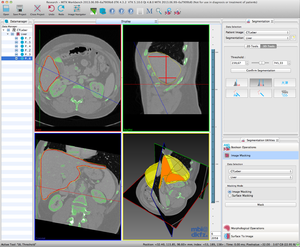 This is the 2013.09 release of the MITK release cycle. The complete list of new features, bug fixes and known issues is down on this page.
What's included?
There are binary installers for Windows, Mac OS X and Linux which contain the application MITK Workbench. Additional to image loading/saving and level windowing currently the following plugins are included:
Volume visualization
Measurement
Interactive segmentation with

3D Regiongrower
Boolean Operation on segmentations
Deformable Clippingplane

Logging view
experimental DICOM Query/Retrieve (based on components from the Common Toolkit CTK)
Please note that the installers do not contain the source code or header files for the precompiled libraries. To develop applications or plugins with MITK please get the source code.
How to get it?
Please have a look at the download page.
Highlights of 2013.09 release
General:

Added support for Visual Studio 2012 (more info).
A new overlay framework for rendering overlays (annotations) in a MITK render window has been added (concept page).
Many third-party libraries used in MITK have been updated. Some third-party libraries were distributed with the MITK source code (in the Utilities directory) and have now also been converted into proper external projects being downloaded durint the MITK superbuild. The list of updated or converted and updated third-party libraries is:

ACVD (Surface Mesh Coarsening and Resampling, newly added, git hash 8bbb6da1)
ANN (converted into an external project, updated to version 1.1.2)
Boost (updated to 1.54)
CppUnit (newly added, version 1.12.1)
CTK (updated to git hash f18114d2)
DCMTK (updated to snapshot 20121102)
GLEW (converted into an external project, updated to version 1.10.0)
OpenCV (updated to version 2.4.6.1)
Poco (converted into an external project, updated to version 1.5.2-rc3)
Qwt (converted into an external project, updated to version 6.1.0)
Qxt (converted into an external project, updated to version 0.6.2)
SOFA (updated to revision 9832)
tinyxml (converted into an external project, updated to version 2.6.2)
If you used one of the third-party libraries from the Utilities directory in your MITK module, you will now need to declare a dependency on this module using the PACKAGE_DEPENDS argument of the MITK_CREATE_MODULE macro.
A new set of equality methods for MITK data types has been introduced.
Core library:
The CppMicroServices code has been updated and moved outside of the "MITK Core" library into a separate shared library (bug). The update introduced some breaking API changes:

All CppMicroServices header files now start with "us". Previously, header files with both the "us" and "mitk" prefix were available.
All CppMicroServices classes are now in the "us" namespace instead of the "mitk" namespace.
Other breaking API changes are listed here.

The interaction state-machines can now handle conditions to determine if a transition should be triggered or not (bug)
Fixed and improved the rendering of multi-component (vector) images (bug).
Segmentation:
The segmentation plug-in has been redesigned, see the segmentation redesign page for a detailed list of new features.
MITK Diffusion:
There will be a new MITK Diffusion release based on MITK 2013.09 soon.
Bugfixes
In the 3 months since the last release more than 187 bugs were fixed.
Not everything could be fixed in time, so here are the most important known issues
New feature list
Complete list of new features since MITK 2013.09
This page was last modified on 1 December 2014, at 15:40.
This page has been accessed 19,108 times.